Ceredigion Young People's Bursary 2021
Are you aged 11-25 and currently living in Ceredigion?
Do you need financial support to reach your goals?
Would you benefit from having financial support to help you with training or equipment that is required for your chosen vocation?
Are you looking for support to start your own enterprise?
Are you a member of a community group and looking for financial support to purchase equipment or resources?
Whatever your aim, this year we're excited to provide you with the                    opportunity to apply for a maximum £1,000 bursary kindly donated by
West Wales Holiday Cottages!
The team at West Wales Holiday Cottages understand it can be difficult for young people living in rural Wales to have the opportunity to make a difference and to overcome barriers to pursue their aspirations for the future.
Interested?
Complete the bursary application form and all you need to do is explain a bit about yourself and what you plan to do with the bursary!
Your application will then go to Ceredigion Youth Service's Youth Forum Panel, who will choose the successful candidate(s) during May 2021.
New Application Deadline: 12pm Monday 7th of June 2020.
Contact youth@ceredigion.gov.uk for further information and for an application form.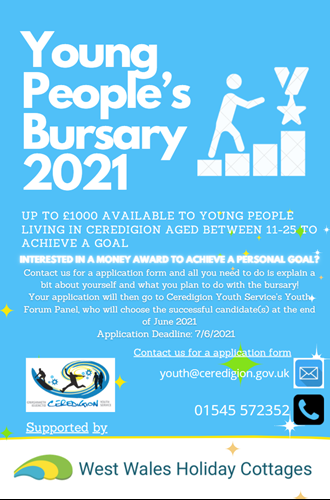 16/03/2021