Supporting Children's Universal Day 2021
This Saturday 20th November is Children's Universal Day. Children's Universal Day is the anniversary of the date in 1989 when the UN General Assembly adopted the Convention on the Rights of the Child (UNCRC). This means that all children and young people up to the age of 18 have rights that support them in their everyday lives.
This year and in the lead up to Children's Universal Day, Ceredigion Youth Service we will be sharing information and a daily video clip on our Social Media to raise awareness of Children's Rights and also, to promote the work of local youth services supporting young people in Ceredigion.
Keep an eye out for our daily posts @GICeredigionYS and find out more about your rights by visiting the Children's Commissioner for Wales website:
https://www.childcomwales.org.uk/uncrc-childrens-rights/
For further information regarding Children's Universal Day, please visit:
https://www.un.org/en/observances/world-childrens-day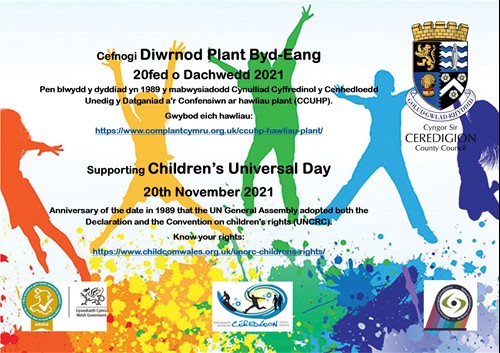 15/11/2021